Rapid Response to Milton Fire Damage
9/6/2022 (Permalink)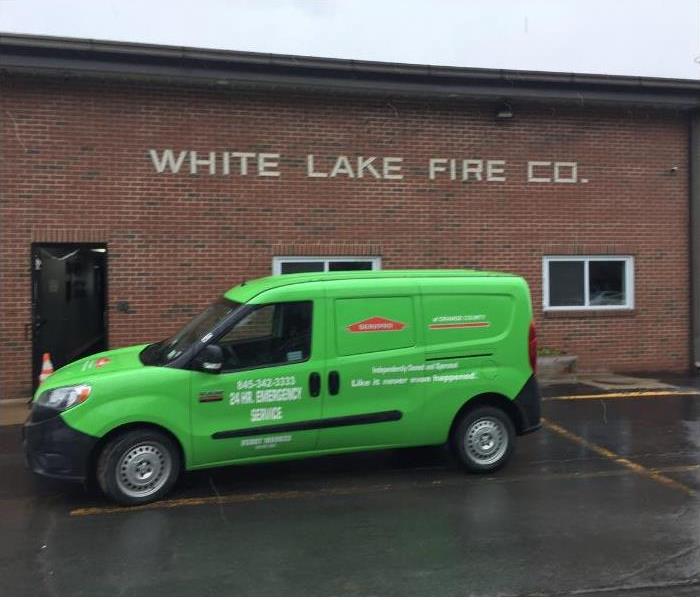 Local fire departments trust SERVPRO for fire damage cleanup and restoration after a fire. Milton homeowners can too.
SERVPRO Knows Fire Damage Recovery
We respect the urgency of a fire. As traumatic as these emergencies can be, they are also heavily destructive to building materials and contents. Successfully restoring a home after a fire loss incident means providing a suitable solution for common harm like:
Smoke
Soot particles
Water damage
Harsh malodors
Structural compromise
Milton fire damage can happen from multiple sources, so our SERVPRO team stays prepared to respond quickly to the call. The faster technicians reach damaged homes; the less widespread and threatening post-fire effects can be.
Employing Emergency Services for Fire Damage
Emergency services precede nearly all other steps in the fire restoration process, including the thorough inspection and detailed estimation necessary for claims approval. These earliest steps are critical in preventing continued damage to the structure and allow an easier transition to the needed restoration work to come. Focal points often include:
Air Filtration - with many airborne contaminants and particulates after a fire gets extinguished, we can provide a safer environment for recovery technicians with HEPA filtration air scrubbers trapping destructive smoke solids.
Debris Removal - Ash, smoke solids, charred material remnants, and more make up the heaps of debris around the structure after a fire. Removing these piles reduces smoke residues and odors.
Water Removal Services - To extinguish a structure fire, water is often necessary. High volumes of water can create a secondary concern of pooling and absorption for responding SERVPRO technicians to address.
Content Cleaning Solutions
Personal belongings can be in the damage path of a spreading structure fire and continue to be threatened after extinguishment by soot, smoke, and other damages. There are multiple approaches to cleaning and restoring impacted personal belongings and contents. The first solution we provide is on-site relocation for items in harm's way but not yet damaged by smoke. Secondly, light damage can be managed on-site with surface cleaning products. SERVPRO professionals can relocate contents to our nearby warehouse for focused cleaning when more substantial damage exists.
Soot Removal Options for Residences
Soot and smoke residues present the most significant obstacle to successful fire damage recovery. The challenge lies in removing these soil deposits with minimal damage or disruption to the underlying substrate, which requires several approaches depending on the impacted elements. The objective of soot residue cleanup is minimal material replacement. Surface cleaning is the preferred method, using products to dissolve or emulsify soil deposits.
Overcoming Lingering Fire Damage Odors
After extinguishment, a challenging aspect of fire recovery is isolating the individual malodors and neutralizing them. Because hundreds of materials can be burned during a structure fire, the smell is often a combination of offensive scents. In addition, customers can also experience imaginary odors that result from the trauma of a structure fire and the belief that smoke odors are still present even if they have been addressed. Much of the deodorization process involves:
Fogging
Hydroxyl Machines
Ozone Generators
Counteractant Products
Full-Service Contractors to Help
One of the advantages of choosing our experienced SERVPRO team is the reconstruction experience we bring to the equation. With a general contractor license and years of repair and build-back experience following disasters, we have become a preferred insurance vendor in the area. Our rapid responders know what is needed to approve damage claims and can help with the earliest controlled demolition and temporary construction to a paintbrush's final stroke.
You should not trust the restoration and recovery of Milton fire damage to just anyone. Our SERVPRO of Sullivan and South Ulster Counties team has experience and training as leading FSRT-Certified technicians throughout the Catskills and Hudson River areas. We are ready to mobilize to help when disaster strikes at (845) 791-7647.