Toilet Backups Can Cause Extensive Water Damage in Monticello
1/9/2022 (Permalink)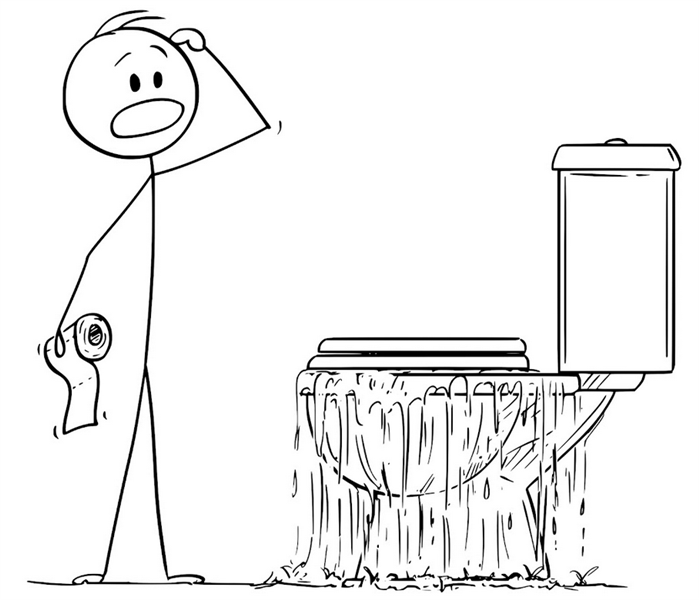 Overflowing toilets can often bring sewage into your home. Team SERVPRO is standing by 24/7 offering effective water cleanup services.
SERVPRO Can Provide Emergency Services for Water Damage After your Toilet in Monticello Backs Up
Most people have had to deal with a situation where their toilet clogs and backs up at some point in their lives. The problem can be easily fixed by cleaning up a small mess in many cases. However, if you do not notice the backup right away, a significant amount of sewage water could pour into your home.
When conducting water cleanup in your Monticello home, our SERVPRO technicians first determine the source. Where the water originated can change the steps we can take to remediate your home. If you have a water supply line leak, the category one damage caused will be easier to handle since the H2O is clean. However, if your sink drain leaks or moisture comes in from the outdoors, we label the problems as category two since contamination could be possible. Category three issues occur when the source of the leak is a sewer line or muddy water coming in from the ground that is more than likely contaminated by harmful bacteria and viruses.
Our highly trained team at SERVPRO can help whatever the case may be. Our technicians are all trained by the Institute of Inspection, Cleaning, and Restoration Certification (IICRC) program, and we have the industry's most advanced technology at our disposal. We can provide fast, 24/7 service to assist you by conducting the following procedures:
Water Extraction Services
Repair Damage Caused by Ceiling Leaks
Sewage Clean-Up
Cleaning Up Water After a Sewage Backup
When dealing with category three scenarios, our main goal is to prevent the spread of contamination. If non-porous building materials or contents like your carpet or rugs got wet, we must dispose of them.
If your toilet ever backs up overnight and you wake up to a nasty mess, call SERVPRO of Sullivan and South Ulster Counties at (845) 791-7647.