Can SERVPRO Minimize My Insurance Claim for Fire Damage in Milton?
11/16/2021 (Permalink)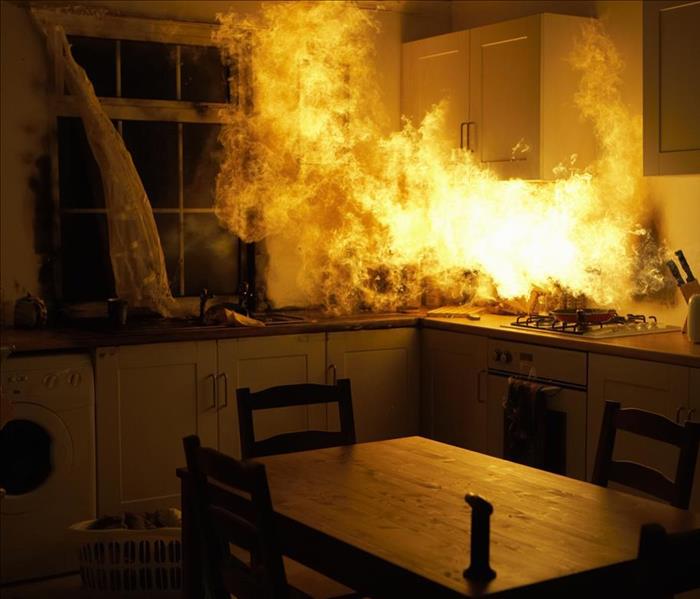 Kitchen fires are no DIY project. Call SERVPRO for fast and immediate fire damage restoration services. 24/7 365 days a year.
SERVPRO Fire Damage Restoration in Milton Reduces Overall Insurance Claims
After a fire in a Milton home or business, many clients assume that everything has to be replaced. Everything is covered in smoke residues, debris from the fire, and chemicals or water from the efforts of the firemen. With all of the damage, the stress of the situation, looking for a place to live, and dealing with the insurance company, many people believe the least expensive solution is replacing all furniture, flooring, and contents. Many home insurance policies have a maximum total claim allowed and guidelines concerning these claims, which can be more confusing.
SERVPRO provides fire damage restoration to clients in Milton and surrounding areas. We have over thirty-five years working in the restoration industry with thousands of clients and insurance companies. Our experience has shown in many situations, it is less expensive to refinish, clean, resurface, or recover fabrics than to replace items damaged by the fire or covered in smoke residues.
We review every item and discuss our approach with our clients and the insurance adjuster to restore our client's home to its original condition, "Like it never even happened." Once everything is cleaned and deodorized, structural surfaces can be repainted, couches and chairs can be recovered, and many wood items can be refinished.
At SERVPRO, we do the right thing. We clean and restore when we can to keep the loss expense of the fire claim to a minimum and return your home to you as quickly as possible.
Our services include:
Fire and Smoke Damage Restoration and Cleanup
House Fire Clean Up
Coordination of Insurance Claims
Call SERVPRO of Sullivan and South Ulster Counties for fire damage restoration in Milton and surrounding areas. We can help 24/7. Call (845) 7917647.