Water Intrusion in your Milton Business Could Cause Temporary Closure.
11/3/2020 (Permalink)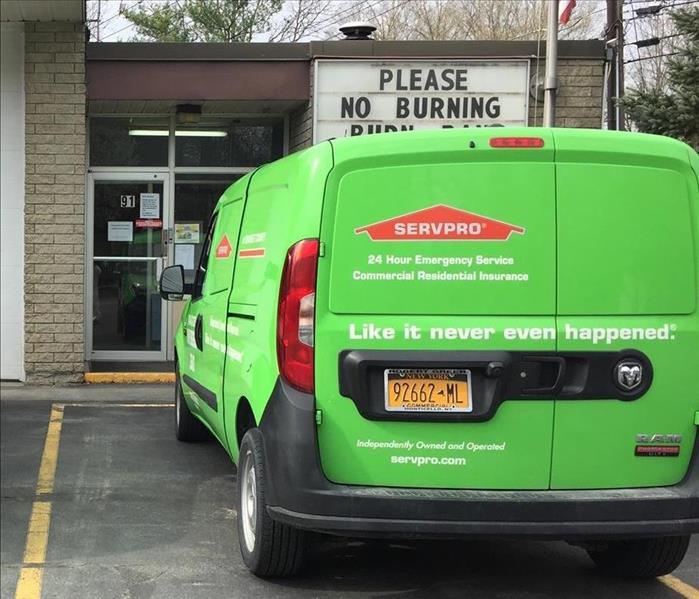 SERVPRO, We're Faster To Any Size Disaster, can mitigate water damage to your commercial property in Milton and minimize customer distruptions
When Business Interruption Threatens Revenues, You Can Rely on SERVPRO to Provide Expert Commercial Water Restoration in Milton.
Ulster County is home to over a quarter-million acres of green space, the most famous small town in the world, Woodstock, as well as stunning camping trails and the Hudson River. Every year thousands of residents from nearby New York descend lap up the spas, river cruises, Milton's resorts, and the wider Ulster County area. Businesses in Milton pride themselves on relaxing and luxurious getaways for the active communities of New York. A water intrusion event can disrupt and inconvenience guests, which is why having access to an expert and local water restoration service is an essential part of running and maintaining your business.
There are commercial water restoration companies in Milton that can help repair your business and minimize revenue losses. Our team has experience dealing with saltwater erosion and groundwater flooding that can occur to companies and resorts close to the Hudson River. One way of managing these challenging impact events is to install vapor barriers in the lower regions of your resort. Vapor barriers help protect subfloors from sustaining condensation damages when crawlspaces or other subterranean parts of your business become saturated with water. SERVPRO technicians are experts at working around the typical building construction of resorts in Ulster County.
Things to do in Milton, Ulster County
The charming towns in Ulster County provide an all year-round guest experience with some of the most beautiful natural visages alongside the Hudson River. Nationally maintained forestry includes Catskill Park and the Forest Preserve. Waterfront towns offer fisheries, cruises, and unique dining experiences for tourists, as well as hiking and biking trails.
The Marlborough Farm Trail offers year-round tours of its stunning orchards, vineyards, and agriculture. Set between the Catskill Mountains, which peak at over 1200 meters, and the Hudson River, this rural getaway is ideal for getting back to nature.
The Falcon is a smooth Jazz venue overlooking the Marlborough Falls. Live music and a rotating menu of fresh fish, meat, and seasonal vegetables keep guests entertained and content all year round.
Buttermilk Falls Inn and Spa is an exclusive Hudson River estate that boasts 75 acres of stunning green spaces, whirlpools, spas, and private baths. Wedding bookings and bridal packages are available throughout the year.
Commercial Water Restoration Companies Near Me in Milton and Ulster County.
Providing a running service for tourists throughout the year can be tough with plumbing or infrastructure issues and river tides, causing moisture problems in resorts. SERVPRO has an expert team of water restoration technicians in Milton who can arrive quickly during an emergency to provide exceptional mitigation and restoration for your business. We prioritize minimal business interruption when working and can contain an affected area efficiently to prevent it from bothering other guests or spreading to other parts of your business.
Moisture problems can get worse over time and lead to mold growth. Our complete drying procedure can help to protect your business against secondary damages.
With access to national-scale resources, our crew chiefs can quickly mobilize industrial dehumidification, extraction, and air-movement equipment to dry materials, contents, and the building assembly of your business.
We are proud members of the Hudson Valley Home Inspectors Association and receivers of an Orange County Rising Star award for our work with the business community to help them overcome unforeseen disasters in commercial premises.
While Milton is home to some of the most refined natural beauty in Ulster County, it can also be subjected to freezing conditions and snow throughout the winter. Regular building maintenance can help to reduce the impact of frozen pipes or water intrusion events. However, accidents do happen. When an unforeseen event threatens your business, you can rely on us to provide expert and accountable restoration services.
Are businesses in Milton at risk of natural disasters?
Ulster County can sometimes fall victim to natural disasters. While these events tend to be rare, the impact of high winds can lead to a water intrusion emergency. The key to controlling losses in a water emergency is to limit exposure. The longer water remains in contact with materials or furniture, the more likely it is to cause permanent harm. Our technicians can help recover your business by extracting water quickly and establishing a robust drying strategy to prevent condensational or other secondary water impact types. We understand how a tourist resort relies on busy periods of the year for annual income and work quickly, as well as effectively, to return your business to its preloss condition.
How can SERVPRO help to recover my business after water intrusion?
Our commercial services team is capable of working in large structures and small businesses. We operate twenty-four hours a day and have production technicians on call should you need an out-of-hours service. By combining our industry-leading knowledge with state-of-the-art equipment, we can be confident of controlling water intrusion and returning the business to you, "Like it never even happened."
We can mobilize large DX drying units to control humidity and temperature within larger spaces and increase the efficiency and control over conditions within your business premises.
Exterior furnaces and industrial generators and lighting can be brought on-site if there is a need to shut off the main fault-lines temporarily.
Our expert carpet cleaning services include pre-conditioning, rotary buffering, and treating carpet fibers with sensitive anti-microbial chemicals. We gently detach and reinstall carpets to reduce the risk of causing damage to your floors, carpets, or baseboards.
We can thoroughly deodorize your property to avoid unpleasant water or chemical odors that may have occurred from the water intrusion or restoration. Using venting fans, we can create an air exchange to return your business to its normal state.
Maintaining a year-round service is crucial to local, tourist-based resorts and businesses. If something goes wrong, contact SERVPRO of Sullivan and South Ulster Counties at (845) 791-7647.