SERVPRO Safeguards Ellenville Properties with Rapid Water Extraction Using Advanced Equipment
2/17/2020 (Permalink)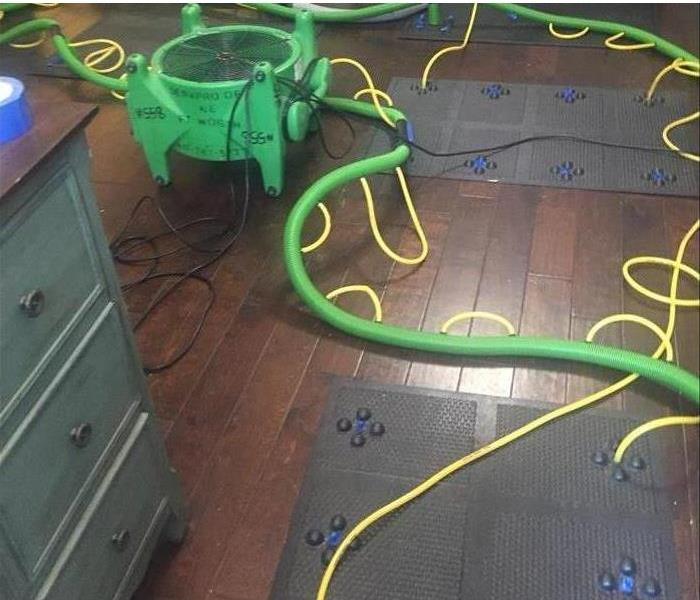 Advanced Equipment Like Drying Mats and Axial Air Movers Mitigate Water Damage in Ellenville Homes--SERVPRO Can Help!
Specialty Tools Used for Drying Ellenville Homes After a Loss
Because so much can vary from one water loss emergency to the next, the damage to your Ellenville home might differ significantly from another incident. This knowledge makes the initial assessment and scoping of the job one of the most vital processes our SERVPRO team makes, as it not only catalogs the current loss and the expected migration of the water through the property but also relays to the responding technicians what tools they need to complete the restoration tasks.

From the initial contact that you make with our staffed emergency line, we can begin conveying information to our mobilizing unit regarding the specialty extraction and drying equipment necessary for the water damage in your Ellenville home. With many of these tools and devices designed specifically for certain loss situations, their deployment can mean saving our customers time and money on the restoration their properties need.

Drying Mats
Hardwood flooring can quickly absorb standing water and present substantial concerns for structural deterioration and failure. Before this trapped water in the wood planks can bind to the molecules in the wood, drying mats can draw out moisture to protect the flooring.

Positive Pressure Systems
Structural cavities can be a challenge to dry for even our experienced and well-trained SERVPRO technicians. To reduce the need for substantial controlled demolition, positive pressure systems force warm, dry air into cavities to begin evaporative drying without removing the installed construction materials.

Weighted Extractors
Carpeted floors can be a source of considerable absorption and moisture damages, and weighted extractors can press carpet and padding layers against the subflooring material to bring moisture trapped in the fibers to the surface. The onboard vacuum can discharge this collected water from the flooring to maximize drying efficiency.

These are just a handful of the specialty tools and equipment that can help to improve the efficiency and thoroughness of drying efforts in a water-damaged home. While not every loss situation requires these tools, when they are necessary, their use can save time and money. And we have them available, always, to provide our customers with the best service possible. Give our SERVPRO of Sullivan and South Ulster Counties team a call at (845) 791-7647.